Over a working life, a person with a Bachelor's degree will earn almost twice as much as someone with just a high school diploma.  Take a look at the graph below and you determine if college is worth your time (Source US Census Bureau).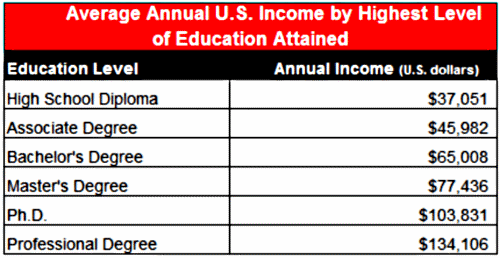 What Field of Study Should I Choose?
It has been wisely said that there are no dumb people, only people who make dumb decision. You are special. Nobody else in this entire world has the same combination of thoughts, talents and skills as you.
Before deciding on a major or field of study, spend some time thinking about what you are good at. Write these things down if you like.
While you may be able to become almost anything you want to be, you will enjoy doing what you like and what you are good at.
Read about different careers, different jobs. Search the Internet for some resources that will help you choose your life's work. We have listed a few resources that will help you.
How Much Will College Cost?
According to the College Board's Trends in College Pricing, the 2018-2019 average total costs (including tuition and fees, room and board, books and supplies, transportation and other expenses as specified below) were:
If I decide to go, How Will I Pay for College?
The earlier you begin planning and saving for college the better off you will be and the more money you will accumulate.
However, there is a host of Financial Aid that may be available to you. In our "Paying For College" section you will find plenty of information obtaining Grants, Loans and Scholarships.
About the Author
Johnny Rogers and His wife Helena are the owners of College Tidbits – The Online College Planning Guide. If you found this article useful, they would greatly appreciate it,  if you would consider Liking their Facebook Fan Page or Following them on Twitter.
Related Reading on Going to College
Was this Useful for You?
If so, subscribe to our mailing list and get regular updates from us!
Thank you for subscribing.
Something went wrong.