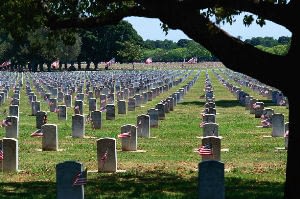 Back on March 19, 2008 this country noted the fifth anniversary of the Iraq conflict and paid its respect to our fallen heroes who have given their lives and paid the ultimate price for what we would call freedom.
The U. S. soldier casualty count stands at 4,102 at the time of this blog posting.
According to CNN casualty figures, (as of May 2008), 2,182 of the fallen soldiers were between the ages of 17 and 24 years old (1,196 were less than 22).
Since this is a college planning website, I sometimes find myself wondering how many of those young men and women, especially those between the ages of 17 and 22 might be making preparations to go to, or would be getting ready to finish college at this time.
This post is not a political post and does not seek to justify nor condemn the Iraq conflict. I am curious however, and wonder if we might still be engaged in this conflict if all of the sons and daughters of our Washington politicians were out on the battlefield…To Read the Entire Article Click Here
Was this Useful for You?
If so, subscribe to our mailing list and get regular updates from us!
Thank you for subscribing.
Something went wrong.