Set Yourself Up for Success at College with Newly-released E-book
Successful Spaces coach Mary Roberts and journalist Chrissy Callahan release new college success-focused e-book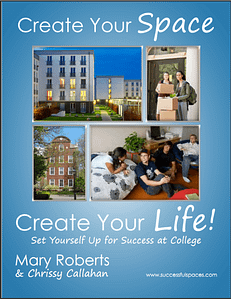 There's more to "the move to college" than the move itself. And while incoming freshman all over the world are packing their suitcases to head to school for the first time, they're also about to make the transition of a lifetime. This is a time when students need a little extra help, and "Create Your Space, Create Your Life!" is here to give it to them.
This e-book is the college student's ultimate guide to turning their college living space into a pathway to success, and will help guide students through their most difficult moments and their greatest achievements.
With "Create Your Space, Create Your Life!" high school graduates and current college students alike will benefit from the seasoned expertise of student environment and Successful Spaces coach Mary Roberts and the firsthand experience of recent college graduate and journalist Chrissy Callahan. By combining professional with firsthand advice, this e-book will help students understand and prepare for the transition to college. Additionally, "Create Your Space, Create Your Life!" will help current college students adapt their living space to fit their constantly changing lifestyle.
Roberts and Callahan will guide students through the transition from high school to college, offering practical and valuable advice on everything from what clothes to bring to college to how to manage the emotional transition that lies ahead. Students will learn how to use their dorm rooms to enhance their college experience and achieve their goals, and they will feel ready to take on the journey of a lifetime.
August is the ideal time to cover Create Your Space, Create your Life! I have attached a complimentary copy of the e-book cover, table of contents and introduction for review. Mary Roberts is available to comment for articles about the new e-book, packing for college, wardrobe selection, dorm rooms and feng shui, and much more. Please let me know if you'd like to discuss potential story ideas for your website and/or a reader giveaway! I look forward to hearing from you.
About Mary Roberts
A pioneer in student environments, Mary has transformed hundreds of dorm rooms at schools such as Harvard, MIT and the University of California-Berkley. Mary has spoken extensively on college campuses about the role that environment plays in student's college experience, and is the author of "The Mystical Pizza," a comprehensive e-Kit that helps students create comfortable living and working spaces to support their personal and academic success.
Using her 35 years as an educator, Mary Roberts launched Successful Spaces to create individualized living and working spaces that help people increase productivity and realize their highest potential. Her experience and research has uncovered the environmental factors that contribute to personal, academic and professional success, and Mary provides insightful support for consultations in private residences, businesses and college campuses.
Mary's work with students has been featured in The Associated Press, The Boston Globe, Boston Magazine, Her Campus Magazine and Harvard's Freeze Magazine. An informative speaker on a broad range of feng shui topics, she has lectured at the Boston College of Architecture, has guided money management firms in Boston's financial district, and has spoken frequently on panels at "Build Boston" and "Residential Design," sponsored by the Boston Society of Architects. As a leading feng shui authority, Mary brings this ancient wisdom to clients around the world.
Videos
Was this Useful for You?
If so, subscribe to our mailing list and get regular updates from us!
Thank you for subscribing.
Something went wrong.